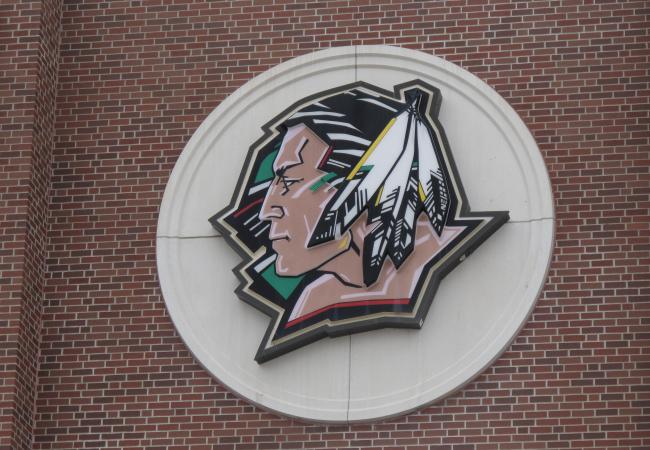 The University of North Dakota has long been home to the "Fighting Sioux." But in a decision on Monday, North Dakota's Board of Higher Education voted unanimously to retire UND's mascot by the end of the year. The move anticipates a likely measure from state legislators to reverse a previous law that upheld the nickname's use.
We've all heard this story before. After all, it was our own Board of Trustees that caved in to pressure back in 1974, declaring an end to the long-standing "Indian" moniker; this, despite widespread approval and support from local tribes in the Upper Valley.
Earlier this year, the North Dakota legislature passed a law that actually required UND to keep its mascot. But the governor, along with top legislatures, have since turned their backs, claiming that they will seek a repeal of the earlier measure this November.
It's hard to blame the school for complying. The decision from a 2007 lawsuit would have banned UND from hosting any postseason NCAA tournaments and from using the logo or the nickname in any postseason appearance, had they not come to a decision by Monday.
Furthermore, UND is currently in the works of attaining Division 1 status. The Fighting Sioux (they haven't replaced it yet) are planning to join the Big Sky Conference of the NCAA next year, and a fresh round of sanctions wouldn't help their chances very much.
The history of the Great Sioux Nation is central to the history of the Dakotas, and relations between the Sioux tribes and American settlers were complex, to say the least. From the Dakota War of 1862 to the Wounded Knee Massacre of 1890, their interactions were often stained with tragedy and bloodshed. But it would be most tragic of all to simply turn our backs on history. By replacing the "Sioux" with whatever else they come up with (please hope they don't choose the "Big Green", too), officials in North Dakota are surrendering not just a name, but a link to an iconic past.
–Thomas L. Hauch